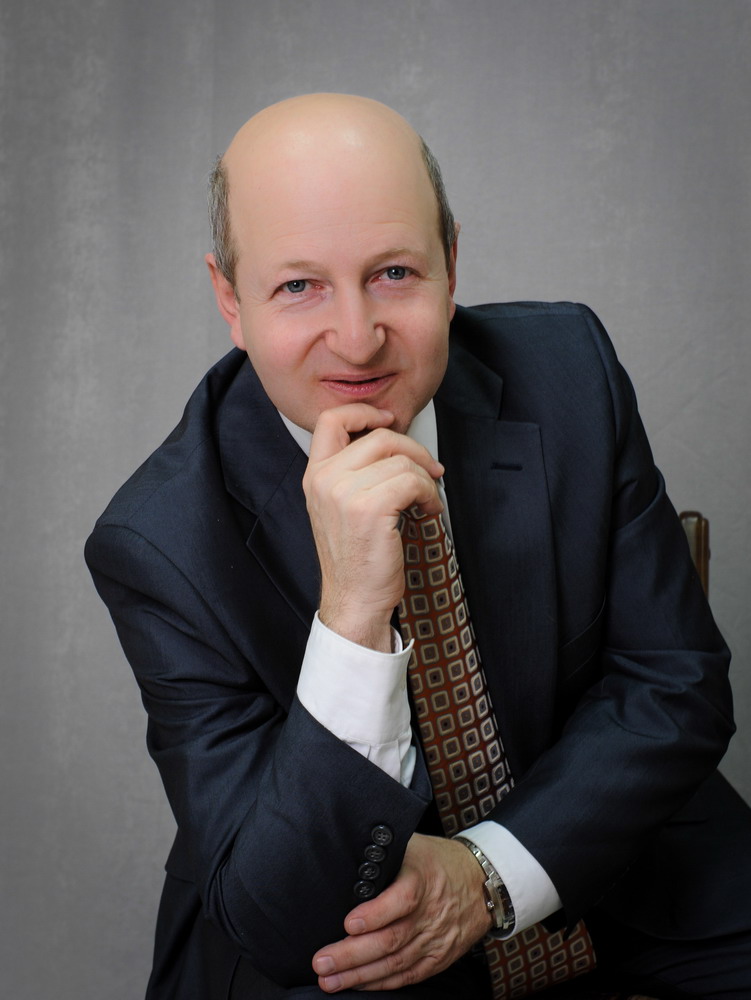 Position: Professor, Metal Forming Department
Degree, rank: DSc (Eng.), Professor
1983-till now – research engineer junior researcher, researcher, senior lecturer, associate professor and professor at Nosov Magnitogorsk State Technical University
Since 1996 – Deputy Director of nonprofit partnership Magnitogorsk Research Information and Technical Center (NP Maginfotsentr), Director of LLC Garant-Magnitogorsk and LLC ChermetInformSistemy.
Results of his research activities were introduced at PJSC MMK and other iron and steel plants. Technology for manufacturing rotational parts of the set curvature was introduced and others.
He was one of the first in Russia, who began to introduce approaches of the theory of constraints at industrial plants.
He is an author of over 350 research works, including 12 monographs and learning aids, over 90 patents for inventions.
He was a thesis supervisor for 8 PhD theses.
Since 2000 he regularly participates in international conferences held in Japan, Great Britain, the USA, Germany, Italy, Poland, Korea, China, the UAE, Turkey and others. He was a member of the research committee and headed a section of rolling mill engineers at the 11th International Conference on Technology of Plasticity in Japan. In 2002, he headed a section of rolling mill engineers at the international conference Metal Forming-2002, held in Birmingham, Great Britain. In 2013 he gave lectures for students, PhD students and teachers at Czestochowa University of Technology (Poland), and in 2014 – for students of the University of Science and Technology Beijing (China). In 2014, he was an expert of the committee awarding grants under the Government of Bulgaria. He is a lecturer of the Institute of Logistics and Supply Chain Management (Moscow). Since 2014 he is an editor-in-chief of Quality in Materials Processing.
Key research interests:
Development of the theory and technology of metal forming based on a search for innovative solutions
Forming optimum transportation production flows of metallurgical and machinery building plants based on integrated conceptual approaches of the theory of constraints into innovative information management systems
Key published papers:
Asymmetric thin sheet rolling practice: development of the theory, technology and new solutions. Moscow: MISIS, 1997. (coauthored)
Asymetriczne walcowanie blacli cienkicli: teoria, teclinologia i nowe rozwiazania: Seria Monografie nr 137. Wydawnictwo Politechniki Czestochowskiej. Czestochowa. 2008, 345 р. (coauthored)
Managing an industrial plant based on the theory of constraints: fundamentals of the methodology and practical experience. Magnitogorsk, 2004. (coauthored)
Mathematical modeling of the stress-strain state in asymmetric flattening of metal band. Journal of Materials Processing Technology, 2002. (coauthored)
Research of edge defect formation in plate rolling by finite element method. Journal of Materials Processing Technology, 2015. (coauthored)
Finite element modeling of shear strain in asymmetric and symmetric rolling in multi roll calibers. Procedia Engineering, 2014. (coauthored).
New technological solutions taken by simulation of an asymmetric rolling process. Steel, 2003, no. 2.
He was awarded with a Certificate of Appreciation by the Ministry of Education and Science.
Badge of honor: Honorary Figure of Russian Higher Vocational Education.
He many times received certificates of appreciation from the Head of the Magnitogorsk city administration. He is a member of the committee for development of small- and medium-size business at the Magnitogorsk city Administration.